A waterfront home in Orange County can command some of the highest prices in California and even the entire United States. However, to get the highest profit for your property, it is not enough to simply list it and expect great offers to come in. There are ways to add value to your home and give you the best chance of maximizing your returns. 
We've compiled this comprehensive guide on the different ways to increase the value of your waterfront home in Orange County. 
HOW TO ENHANCE THE VALUE OF YOUR WATERFRONT PROPERTY 
Waterfront homes are a dream. Imagine waking up to the sound of the waves and enjoying the cool morning breeze. You and your family can enjoy a variety of watersports activities and improve your health by being in such a calm and relaxing environment. And if you're planning on selling the property, you get the opportunity to get a great return on your investment. Waterfront homes are typically on high demand. Many people want to experience living near the water and are willing to pay a premium for such a lifestyle.
But despite the high demand for waterfront homes in OC, there's no guarantee that you will sell your house fast and at the best price. After all, this type of property is a huge investment. You will be competing with other sellers in attracting serious buyers who can pay the right price. 
To make your property stand out on the market, take a look at these ways to increase the value of your waterfront home in Orange County, CA. 
Highlight the property's features

Before you even think about renovating and staging your home, take a good look at what you have. Ask yourself, "How can I make everything pop?" and go from there. Here are a few things you can do to highlight your property's existing features.
Ensure waterfront visibility

A clear view of the water is one of the top draws of a waterfront home. Many buyers will pay a premium for a great view, particularly when they get the bonus of stunning Orange County sunsets or sunrises. If trees and other plants are obscuring views of the water from your home, have them trimmed or even removed. If removal is necessary, make sure to check your HOA rules or local codes for any guidelines and regulations. 

Clean up the shoreline

Make sure your shoreline is clean. A beach with an overgrowth of weeds or littered with trash will surely send buyers scurrying away. You can hire a local cleanup company, or do the cleaning yourself with tools and products like weed-shear cutters and muck cleaners. As you can't stop seaweed and other debris from being washed ashore, inspect your shoreline regularly and clean up as often as necessary while your home is on the market. Some buyers might schedule a viewing at short notice, so make sure your property is always in pristine condition.

Add a fresh coat of paint

A new paint job can give your property a fresh look, both inside and outside. Opt for warm, neutral colors like gray, off-white, and beige to appeal to a wider range of buyers and make it easy for them to envision the space in their own style. 

If you want to add a pop of color, consider vibrant-colored accent walls. As for exteriors, green or blue paint can highlight your home's location near the water.
Home improvements and renovations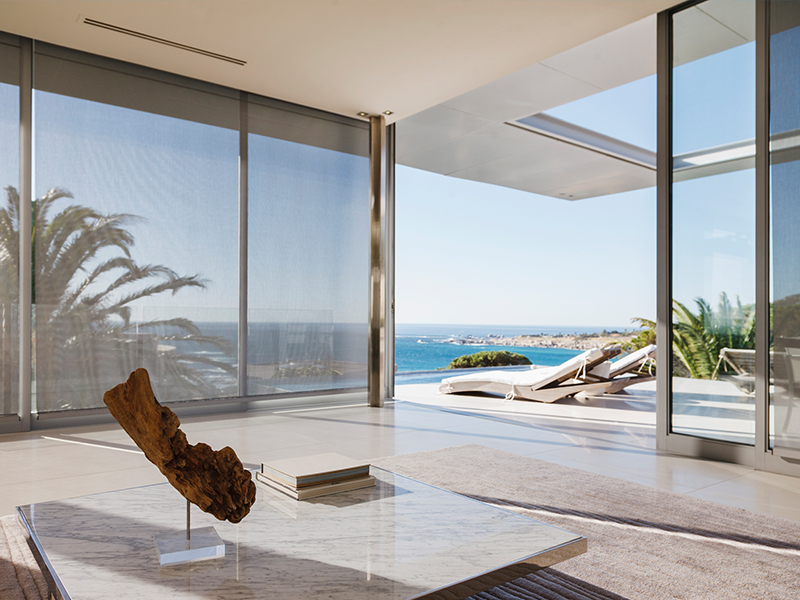 Structures and amenities that can enhance and complement the waterfront lifestyle can add to your property's appeal. Here are some features and upgrades that can make your waterfront home even more desirable.
Large windows 

Large windows are a must for waterfront properties, especially for oceanfront homes. This allows residents and guests to enjoy the best feature of the home – the view! If your home doesn't already have them, it's a good idea to invest in them.

Decks and patios

What can be better than enjoying the views of the water from your own patio while sipping beers and cocktails? Outdoor living spaces are definitely a plus when it comes to waterfront homes. 

Garage for water vessels

If you have a boat, jet ski, or any other water vessel, you may already have a separate garage for these. If not, adding one can increase your home's value. An alternative would be easy access to a nearby marina or dock where water vessels may be safely parked.

Mudroom

Oceanfront home owners know the difficulties of cleaning up mud and sand from the floors after guests spend an afternoon of swimming. A mudroom is a casual secondary entrance dedicated to removing muddy gear. It may be another great addition to your waterfront home for sale.

Outdoor kitchen, grill, and firepit

You can never have too many spaces for outdoor entertainment. One thing that ties people together is food. Having a space where people can come together to cook, eat, and have a good time can help you sell your property quickly. 

Outdoor shower 

Outdoor showers are another staple for waterfront properties. Guests can take a quick shower before and after going into the water, plus it helps keep your interiors clean as well.

Dock accessibility

People also want to live in waterfront homes for the variety of water sports and activities they can enjoy in the area. Fishing is one of those popular pastimes. If your property already has a dock that's ideal for fishing, you're all set. A dock is also perfect for a relaxing stroll, anchoring a boat, or simply giving the property the ultimate waterfront vibe.

If you're building your own dock, make sure it complies with local government ordinances and standards. Some waterfront communities may not allow private property owners to build their own docks, so make sure to do your research first.

If your property already includes a dock, see to it that it's in safe working condition and doesn't look old and worn.
Stage your waterfront property
Now that you've highlighted your property's features and added even more fun amenities, you're ready to stage it. Staging is important because it helps buyers see how they can enjoy and live in the property. If expertly done, staging can help you sell your home considerably faster and for a better price. Here are some quick tips to help you stage your waterfront property:
Showcase the view

The view may not be your waterfront property's only selling point, but it's definitely up there. So if you have it, you need to flaunt it. Make sure the curtains are pulled back when buyers come for home tours. Or replace curtains with shades that can be easily opened to let in the view. Consider installing window films – they provide great visibility of the outdoors while giving you privacy and protecting your interior from harsh sunlight.

Avoid overly themed decor

An important rule of thumb when you're staging your home is to not go overboard on the themed decor. That means cheesy beach-themed accents that can make your home look like an ocean park. A better option would be natural materials, indoor plants, or vintage items. 

Use the right furniture

Staging your home allows potential buyers to imagine themselves living in the space, and the wrong furniture can distract from this. Choose pieces with the right proportion to the space and which can put your home in the best light.

Highlight storage options

Having ample storage space is always a great selling point. Before showing your home for sale to potential buyers, make sure that every cupboard, cabinet, or wardrobe is clean and free of clutter. 

Use the outdoor living space to your advantage

Make potential buyers feel like they're going on a vacation when they tour your waterfront home. Showcase your outdoor living spaces and highlight features such as a firepit, furnished patio, outdoor kitchen, and so on. Put your jet ski, boat, or other water gear on display to whet buyers' appetite for the lifestyle that awaits them.
FACTORS THAT CAN AFFECT THE VALUE OF YOUR WATERFRONT HOME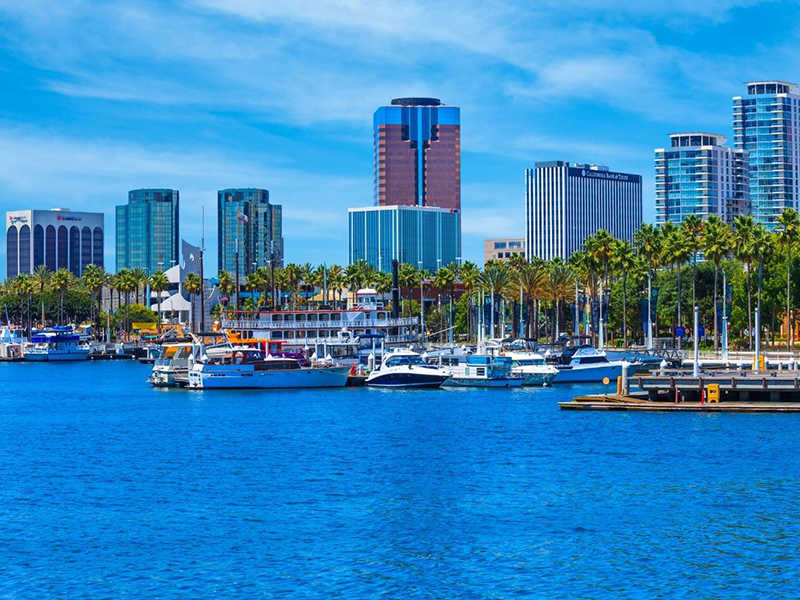 There are many ways to increase your waterfront home's desirability, and ultimately, the price you can get for it. However, certain factors that may be out of your control can play a major role in determining its value. These include: 
Type of waterfront property
Waterfront properties are typically worth more than properties in the same area that don't have a view or access to the water.  In fact, waterfront views increase a home's value by 78.1%. On the average, waterfront property is valued at least 116% more than non-waterfront properties across the country. Compare that to properties with nature views which enjoy a premium of  44.2% and properties with city views that get a premium of around 6%.
The type of waterfront property also affects home prices in the same ZIP code. Riverfront homes, for example, add 24% to a property's total value, while lakefront properties add 25% to the total value. Oceanfront properties, on the other hand, are valued 45% higher than other properties in the area.
Location
Buyers pay close attention to a property's location and community, and are even willing to pay more for a home in an especially desirable neighborhood. 
Community features that buyers look for include proximity to shopping, dining, and entertainment centers. Homebuyers with kids also tend to prefer a home in a reputable school district. It's important to highlight these features in marketing your waterfront home in Orange County, CA. 
Community amenities
Community amenities are also a huge factor in determining the value of a home, particularly in a neighborhood with a resort environment. Typically, exclusive communities will have a clubhouse, resort-style swimming pools, spas, golf courses, and sports facilities, as well as walking and biking baths. Waterfront homes with easily accessible amenities like these tend to fetch a higher price. 
Size
As with any other property type, size definitely counts in determining the value of a waterfront home. Bigger homes mean bigger living spaces, more rooms, and more flexibility when it comes to customizations and renovations. Some buyers also compare square price per square foot, which, in many cases, can give bigger homes an advantage.
Marketing
In marketing your property, make sure to highlight its wow factor. Hire professional real estate photographers who know how to capture your home in the best light. Create great listing descriptions that will emphasize what makes your home unique and a stand out from the competition. Some sellers of ultra-high end luxury waterfront homes also invest in PR and press coverage.
Working with a real estate professional
In any kind of real estate transaction, it's best to work with an experienced professional. Not only can they help you with the paperwork and the intricacies of the buying and selling process, they also know how to market your home to the right buyer and negotiate strongly on your behalf. And the best part? They can give you expert advice on ways to increase the value of your home. 
WHY HIRE A REAL ESTATE AGENT WHEN SELLING A WATERFRONT HOME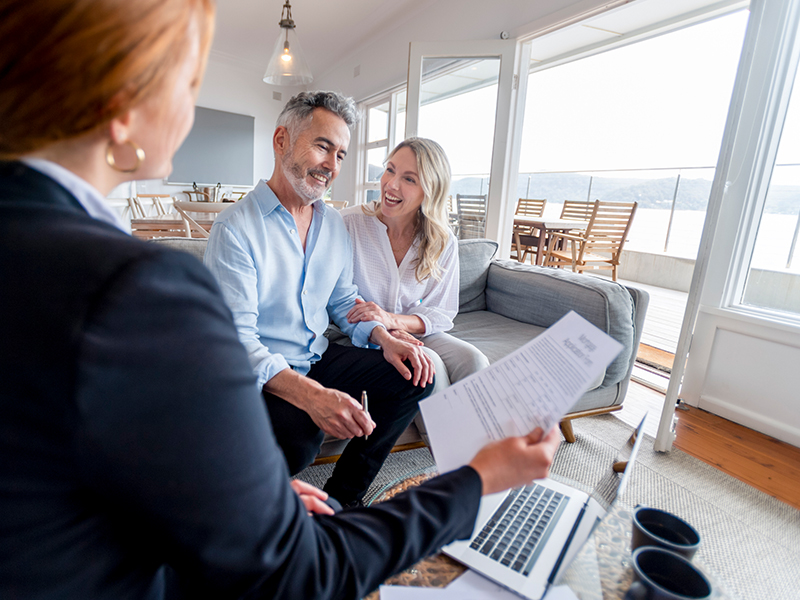 If you're still on the fence about hiring a real estate agent, here are a few things that can help you make that decision.
Knowledge of home selling
Real estate agents are professionals who have undergone training and passed certification exams to be able to do their job. They know the ins and outs of real estate transactions like the back of their hand – from real estate legalese to home inspections. 
Hiring a good real estate agent means you have a guide in learning and understanding the requirements and processes of the selling process. Your Realtor will also help you gain the confidence and information you need before taking the next step.
Expert navigator of the local market
Real estate agents are also knowledgeable about the local real estate market they're operating in and will share the information they have for your benefit. They will use their local knowledge to close a good sale for you, keep you updated on market conditions, and provide you with the information and insights you need to make the right decisions.  
Strategy for pricing
It's vital to price your property correctly, and working with a real estate agent ensures that you're on the right track to a successful sale. After all, the price needs to be reasonable for the property you're trying to sell and attractive enough to potential buyers. With the tools at your real estate agent's disposal, you can price your home according to local market conditions and other essential factors. 
Real estate marketing 
Real estate professionals are also marketing experts. They know how to make your property stand out by employing the latest marketing trends and using online real estate platforms to help the right buyers find you. 
Network of professionals
Another benefit of working with a real estate professional is the network of contacts at their perusal. They can tap into this network to find potential buyers, increase their marketing reach, and make sure the selling process goes seamlessly. You can also tap into your agent's network to find other professionals and experts to help you with other aspects of the home-selling process, such as renovations and inspections.
Paperwork
Selling a home requires a ton of paperwork. The documents needed include contracts, tax information, deeds, and titles, among others. Your real estate agent can manage the entire documentation process and see to it that everything is in order and accomplished on time. 
Negotiations and closing
Aside from being excellent marketing professionals, real estate agents are also skilled at negotiations and advocating for your best interests. Homebuyers will often hire a buyer's agent. Both buyer's and seller's agents are trained professionals in the art of negotiations, so working with one gives you the assurance that you have someone in your corner who will look after your interests at all times. 
WORK WITH AN ORANGE COUNTY, CA REAL ESTATE AGENT YOU CAN FULLY TRUST
Ready to take your real estate investment in Orange County to the next level? As a luxury Realtor, I help my clients achieve their personal goals in real estate. If you're planning to sell your property in Newport Beach or the surrounding communities and are looking for ways to increase the value of your home, I will be more than happy to help. 
I was born and raised in the Midwest, but I have fully embraced the Southern California lifestyle. I've been in the business since 2015 and have been recognized by clients and colleagues for the commitment I put in every transaction. I'm honored to have been featured in Orange Coast Magazine's 2021 Real Estate All-Stars, an annual list recognizing the top 1% of Agents in Sales Volume in the county. I can't wait to help you close the best sale for your home. 
Contact me, Angela Caliger of Surterre Properties, at 714.396.1886 or send me an email here.