Waterfront homes in Orange County, CA are some of the most coveted properties on the West Coast, and for good reason – nothing beats the OC when it comes to beach town living. Here's a guide to buying waterfront homes in this scenic corner of California. 
A Glimpse of Paradise
Few places have mastered casual elegance like Orange County and its affluent beach towns. With over 42 miles of coastline along the Pacific, the OC is home to some of the most iconic beaches in the United States. It also harbors globally renowned attractions like Knott's Berry Farm and Disneyland. 
Spanning 948 square miles between San Diego and Los Angeles, its central location appeals to those who want access to big city amenities, but want to come home to a more relaxed environment. As one of the most desirable places to live in Southern California, the OC offers an array of luxury and ultra luxury homes with every feature imaginable. These include waterfront properties with prime location and excellent views.
A brief guide to Orange County's oceanfront towns
Newport Beach is the quintessential Southern California beach town with gorgeous homes, luxury resorts, upscale retail, and a boat-filled harbor. The city is bordered by Los Angeles County to the north and San Diego to the south. With a total area of 53 square miles and a population of nearly 90,000, it is one of the most sought after oceanfront communities in the OC. Local attractions include Newport Bay, Newport Beach Pier, Balboa Pier, and Balboa Fun Zone.  
Huntington Beach offers 8.5 miles of scenic coastline. Located approximately 35 miles southeast of Los Angeles and about 90 miles north of San Diego, the city ps 31 square miles and is home to a population of nearly 200,000. Highlights include the Huntington City Beach, Huntington Beach Pier, Huntington Central Park, Bolsa Chica Ecological Reserve, and the International Surfing Museum.
Laguna Beach is a resort city in the southern area of the OC. Located about 50 miles south of Los Angeles, the city is known for its picturesque coves, cliffs, and canyons. Main Beach Park features a seven to eight-mile coastline, a scenic boardwalk, and tide pools. Other highlights include Heisler Park, Aliso Beach Park, Crystal Cove State Park, and Laguna Coast Wilderness Park. 
Dana Point is nestled on a cliffside in the southern section of the OC. Its gorgeous beaches offer 6.5 miles of sand and are accessible from the Pacific Coast Highway.  Known as "The Dolphin and Whale-Watching Capital of the World", Dana Point has a laid-back atmosphere and vibrant surf culture. Local attractions include Dana Point Harbor, Dana Point Headlands Conservation Area, Doheny State Beach, and Salt Creek Beach.
Seal Beach is located on the northern tip of the OC and about 28 miles east of Los Angeles. The city encompasses roughly 13 square miles between Huntington Beach and Long Beach. Known for its wide, sandy beach and popular surf spots, the city has a laid-back atmosphere that appeals to a wide range of buyers. Other highlights include the Seal Beach Municipal Pier, Seal Beach National Wildlife Refuge, and Eisenhower Park.
San Clemente encompasses nearly 19 square miles in the southernmost area of the OC. Its nickname, "The Spanish Village by the Sea", perfectly captures the wealth of Spanish Colonial architecture in the city. It also has a thriving surf culture with local attractions like San Clemente and San Onofre state beaches, which feature surf breaks, beach trails, sandstone bluffs, and green parks. Other highlights include San Clemente Pier,  T-Street Beach, Avenida Del Mar, and Casa Romantica Cultural Center & Gardens.
Tips for Buying a Waterfront Home in Orange County, CA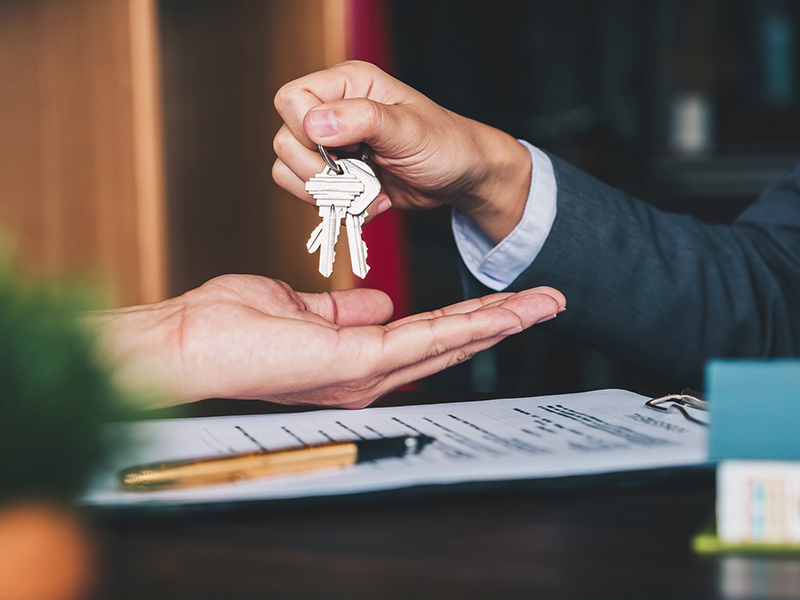 Evaluate your lifestyle. Imagine the kind of life you've always wanted to live in a waterfront home and what you'll need to attain it. Do you see yourself entertaining friends and family from out of town, swimming in the ocean each morning, or buying and maintaining your own boat? Will you need direct water access, private docks, or an outdoor pool? Look for waterfront homes that truly match your lifestyle. This will help narrow down your choices.
There are also lifestyle differences across the OC's communities. For instance, Laguna Beach commands sweeping views of the ocean but properties don't typically have direct beach access. Newport Beach, on the other hand, has properties right on the sand. Knowing your priorities will help you find the right community in Orange County.
Familiarize yourself with waterfront real estate terms. Not all waterfront properties were created equal — knowing the difference between various waterfront property types will help refine your search. A waterfront property is defined as any property located along a body of water. The differences lie in the body of water on which the property is located as well as the kind of water access that the property offers.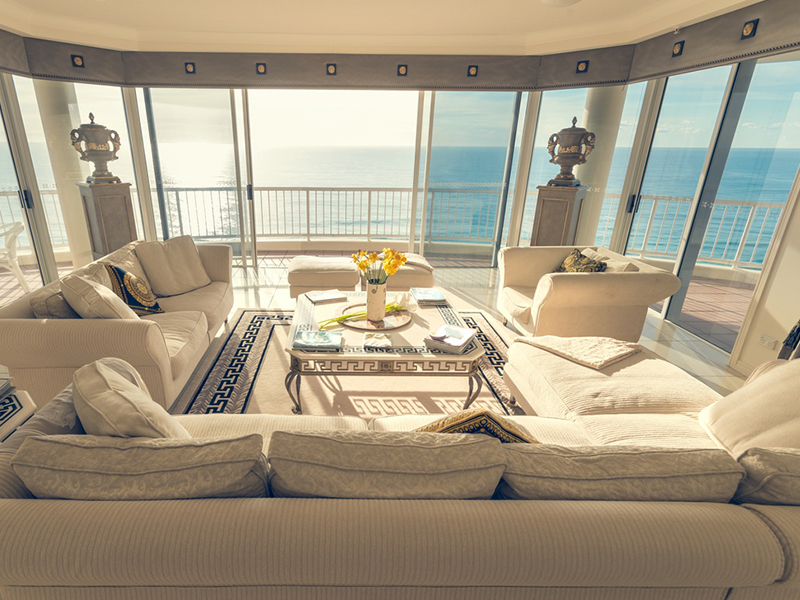 Properties located along the water fall under three broad categories:
Waterfront – In the strictest sense of the word, a waterfront property provides direct water access through a beach, private dock, or boathouse depending on the body of water on which the property is situated. This is the most coveted property type in the OC, where buyers will find an excellent selection of homes that back onto the beach with access to the Pacific.   
Water access – Properties with water access lets residents get to the water through a common pathway or pier. Some of these homes also have dock access, making them ideal for boat owners. These access points can either be public or semi-private depending on the property's location and the community surrounding it. If you're looking for a property with semi-private water access, or one that is shared within a small group or community, ask the seller before making an offer.
Water views – A home with water views is not located directly along the edge of the water and does not provide water access. These properties are usually more affordable than waterfront properties but offer breathtaking views of the ocean nonetheless.  
Learning these terms will make it easier to decide which properties match your preferences among numerous waterfront listings. Not all homes listed as waterfront will meet your expectations. If you're in the market for a waterfront property in the truest sense, make sure that the property backs onto the beach or ocean instead of simply having water views or shared access points. 
Prioritize the property over the structure. It's important to take other factors into consideration when choosing a waterfront property, such as location, water quality, lot orientation, and views. Don't write off a well-located property even if you're not completely in love with the house. You can always improve or renovate a home but it's impossible to move a waterfront lot or control water quality. 
So for example, if you love to swim, make sure that the surrounding water is conducive for it. And you plan to go deep-sea fishing quite often, make sure that the property has docks and water access.
Do research on weatherproofing. When choosing a waterfront home with outdoor amenities like docks, pools, and viewing decks, it's important to make sure that all existing structures on the property can withstand the elements. Waterfront homes are constantly exposed to sunlight, sea air, and the waves, so they require more protection and upkeep than average. 
Fortunately, the OC does not experience hurricanes and the weather is mostly pleasant. waterfront homes in Orange County, CA are also designed to withstand the occasional storm. If you're concerned about tidewater, consider looking for a waterfront home higher up on the bluffs.
Conduct an inspection and walk the property. When viewing a waterfront property, look for any signs of corrosion, mildew, mold, and water damage. Inquire about any issues related to saltwater air, excess moisture, and water seeping into the basement before making an offer. 
Most importantly, think twice before waiving the home inspection. It's common for buyers to waive the inspection and other contingencies when there are multiple bidders for a waterfront home. However, a thorough inspection will help you detect any potential issues that might dissuade you from buying the property. 
Steps to Buying a Waterfront Home
Secure financing. In general, waterfront properties in coastal Orange County tend to be more expensive than other properties, so loans for these homes will fall into the jumbo and super jumbo mortgage categories, which have more stringent requirements than conventional loans. Even affluent and well-qualified buyers should look into jumbo mortgages early in the search process – pre-approval can take longer for buyers with non-traditional sources of income, like businesses, investments, and so on. 
Further, not all lenders will give out loans for waterfront properties, so finding the right lender will also take some time. 
Getting started with financial documentation and jumbo mortgage pre-approval will help you determine how much the lender will lend you. Getting an estimate will save time and effort, making it easier to identify properties that fall within your price range. It can also send the message that you're a serious buyer, making a seller more likely to engage and negotiate.
When buying waterfront homes in Orange County, CA, you'll also need cash reserves for the down payment, which can range from 3.5% to 20% of the purchase price depending on your mortgage terms, as well as closing costs. 
If you're paying cash for a waterfront home, you won't need a loan appraisal. However, it's common for buyers to ask for an appraisal and refuse to pay more than the appraised amount. 
Learn about homeowners association (HOA) rules and regulations. The majority of oceanfront homes in the OC are not in HOA-governed areas, which gives residents more freedom to make home improvements and entertain guests from out of town. However, if you're thinking of buying a home in a HOA-managed oceanfront community, it's important to review their conditions, covenants and restrictions (CC&Rs) and determine how these rules can affect your usage of the property before making an offer.
HOAs may also put restrictions on improvements and require a certain level of upkeep and maintenance for the sake of visual cohesion in the community. When talking to management, find out what you can and can't do with the property. If you want to add a dock or a seawall, inquire about any restrictions on such changes.
Look into government restrictions. Aside from the HOA, buyers will also have to deal with local government agencies and the California Coastal Commission, which may impose significant restrictions on changes that can be made to the property. They may also restrict the kind of activities and water crafts that are allowed on a body of water. For example, there may be restrictions on swimming and fishing in some areas while other places may not allow jet skis or larger water crafts. 
Work with a waterfront specialist. Work with a real estate agent with in-depth knowledge of waterfront homes in Orange County, CA. The average agent may not always have the specialized knowledge needed to help you find the best waterfront property as well as navigate the intricacies of HOA rules and jumbo mortgage approval.
The Best Time to Buy a Waterfront Home
Spring is usually the peak season for real estate activity in the United States, but coastal markets heat up with new listings and prospective buyers in the summer months. Buyers may travel to coastal Orange County for a summer vacation then squeeze a few home viewings into their itinerary. Summer is a great time to view waterfront properties in their full glory – there's nothing like the OC in the height of summer, when its oceanfront communities come to life with water and beach activities. 
If the spring and summer gets too busy for your taste, consider entering the market in early fall, around September or October. There will still be a good number of waterfront homes on the market, but you'll have less competition and a better chance for negotiating with sellers who missed out on peak season and are motivated to offload their property before the year ends. It's also possible to find a good waterfront property in January and February, with sellers listing their homes early in time for the next season.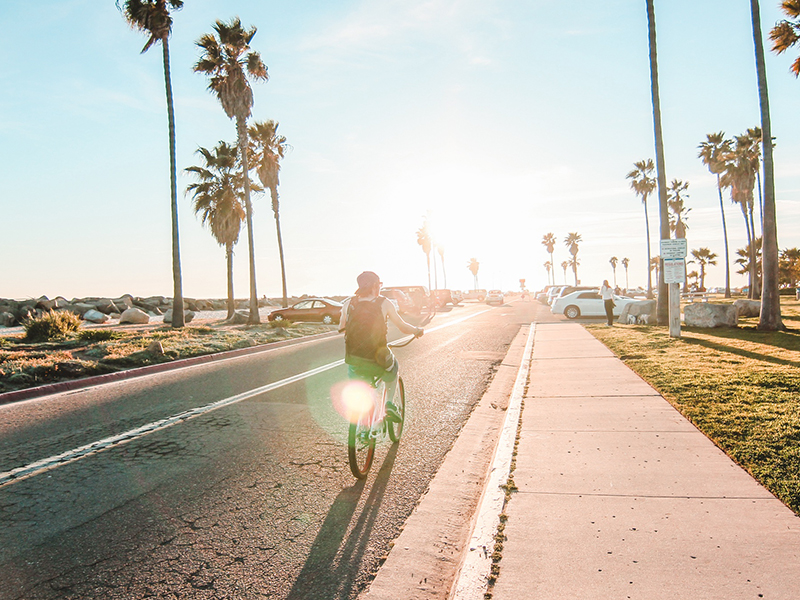 Why Buy a Waterfront Home in Orange County?
Lifestyle – Owning waterfront property in the OC lets you pursue an active but relaxed lifestyle that revolves around swimming, boating, fishing, hiking, and entertaining. Its affluent oceanfront communities also provide access to world-class shopping and dining. Buyers are willing to pay a premium for the Southern California lifestyle that the OC has to offer. 
Nature – Living near the ocean is known to have a calming effect on the mind and body. It can help boost your well-being and create a sense of peace. A waterfront home in an excellent location will have unobstructed views of the ocean as well as provide direct water access. 
Resale value – Many waterfront homes in coastal Orange County are trophy properties that belong to the top 2% properties in their subcategory. The most desirable waterfront homes in the OC are investment grade properties that retain value and are highly coveted among top-tier buyers. 
Sentimental value – A waterfront home is a place to build memories with your loved ones. It can host many family occasions, life events, and celebrations. It can serve as a gathering space for friends and family as well as a refuge from the demands of daily life. 
Discover Waterfront Homes in Orange County, Ca with a Local Expert
If you're ready to explore the Orange County real estate market, trust me to bring you home. You can contact me, Angela Caliger of Surterre Properties, at 714.396.1886 or send me an email here. As a luxury Realtor, I help clients find the perfect home in the OC. If you're interested in Newport Beach and the surrounding communities, I'd be happy to assist you. 
Born and raised in the Midwest, I have fully embraced the Southern California lifestyle and received my real estate license in 2015. I have been featured in Orange Coast Magazine's 2021 Real Estate All-Stars, an annual list recognizing the top 1% of Agents in Sales Volume in the county. I can't wait to show you the best waterfront properties that the OC has to offer.