Nestled in Southern California, Newport Beach is a coastal city known for its expansive boat-filled harbor and picturesque beaches stretching from the Santa Ana River to Crystal Cove State Park.
One of Orange County's most vibrant beach communities, Newport Beach offers an exceptional quality of life thanks to its gorgeous year-round weather, robust economy, top-quality education, family-friendly neighborhoods, and a vast array of incredible shopping, dining, and recreational destinations.
Newport Beach's laid-back resort-like atmosphere makes it one of the finest places to call home in Orange County. For those looking to buy or sell a home in the Newport Beach real estate market, this page provides an overview of the real estate options and neighborhoods, home prices, current market trends, and other relevant information to help you make well-informed decisions.
Newport Beach's real estate market trends at a glance
As of July 2022, there are currently more than 430 homes for sale in Newport Beach. Prices of homes in the area range from $230K to $60M and above.
The current median listing home price in Newport Beach is $3.8M, showing an increase of 21.5% year-over-year. The median listing home price per square foot is $1.4K.
Newport Beach is currently considered a seller's market, with more prospective buyers than the number of homes available.
Homes in Newport Beach are sold after spending an average of 56 days on the market. Compared to May 2022, the trend for median days on the market has increased and is slightly higher than the previous year.
Real estate options in Newport Beach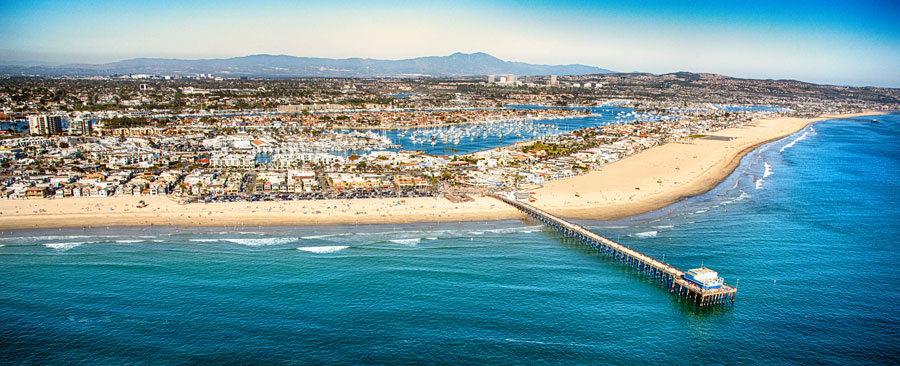 Those looking to purchase a home on the Newport Beach real estate market will be able to choose from a wide array of housing options that can accommodate nearly any type of preference or requirement.
Homes for sale in Newport Beach are available in a variety of elegant architectural styles such as Spanish Revival, California Contemporary, Mid-Century Modern, and California Bungalow. For those searching for their dream luxury home, high-end real estate options in Newport Beach are located in outstanding communities, from exclusive gated neighborhoods along the bay and harbor to prestigious golf and country club communities that offer access to world-class amenities.
Newport Beach's real estate market consists primarily of single-family homes, although there are some townhomes and condos available as well. And for those planning to build a custom home, lots and land are currently available, with sizes ranging from around 3,500 square feet to more than 9,000 square feet.
Newport Beach is an ideal place to call home for anyone looking forward to a laidback Southern California lifestyle right by the water. The city's impressive collection of stunning waterfront homes is the highlight of its real estate market. Many exquisite waterfront properties take full advantage of the city's terrific climate and breathtaking views of the Pacific Ocean, Newport Harbor, and Catalina Island, offering an unparalleled California coastal lifestyle unlike any other.
Some examples of features you can find in waterfront homes in Newport Beach include:
Floor-to-ceiling windows framing unobstructed ocean and city views
Resort-style backyards with large infinity-edge swimming pools and cabana areas
Expansive heated sundecks, balconies, and terraces overlooking blue water vistas
Spacious outdoor kitchens, dining areas, and island bars perfect for entertaining
Stylish primary suites highlighted by picture-perfect views of the Pacific Ocean.
Newport Beach's diverse communities
Homebuyers in Newport Beach can choose from a wide variety of tranquil, scenic, and family-friendly residential communities, each with its own distinct charm and character. The city is well-known for its villages, which gives buyers plenty of great options to choose from that can accommodate their lifestyle.
Here's a look at some of the many outstanding communities you can find in Newport Beach:
Peninsula Point – Nestled at the end of the Balboa Peninsula, Peninsula Point is a tight-knit community that features a superb selection of gorgeous waterfront and beachfront homes. The neighborhood offers a very private and secluded atmosphere away from the rest of the city, further away from many of Newport Beach's popular tourist attractions.
Newport Peninsula – Widely regarded as one of the most sought-after locales in the city, the Newport Peninsula is home to a collection of stunning waterfront properties, including luxurious bayfront and oceanfront estates. Many homes in the area are equipped with private boat docks, as Newport Peninsula is one of the most attractive choices among boat owners looking forward to a laidback lifestyle by the water.
Bonita Canyon – Bonita Canyon is an upscale gated enclave comprised of three individual neighborhoods: Lucera, Madison, and Wyndover Bay. One of Newport Beach's most luxurious guard-gated communities, Bonita Canyon offers a prime location conveniently located close to the vibrant Fashion Island and South Coast Plaza shopping centers, Balboa Island's pristine beaches, major freeways, and many of the best attractions Newport Beach has to offer. Among the perks of living in Bonita Canyon is getting access to the sprawling Bonita Canyon Sports Park, which features a wide assortment of recreational facilities for all ages.
These are just some of the many incredible residential communities you can find in Newport Beach! To find your dream home in a Newport Beach community that matches your unique real estate goals, visit our Property Search page.
Home price trends in Southern California
Southern California's real estate market thrived in 2021, thanks to an uptick in home prices and sales. The surge was driven mostly by homebuyers seeking more space to work due to the prevalence of remote work setups. Another key factor was low-interest rates on mortgages, which largely benefitted buyers looking to save on monthly mortgage payments.
The combination of increasing demand and limited inventory made many communities across Southern California seller's markets. The tight inventory experienced by many markets was because of the decrease in new construction over the past several years.
This year, the Southern California market has cooled off, the primary reason for which is the significant increase in mortgage rates. Although the region's median home price increased by 8.4% in 2021, it has since declined by 1.8% year-over-year. In Orange County, the median price increased 12.2%, while sales decreased by -27.4% in June 2022.
Homes continue to sell fast, however. In June 2022, the inventory of single-family homes was 2.5 months and the median days on the market was ten, which is only three more days compared to a year ago. Some experts predict 2022's sales will show a sharp decline compared to 2021, although others say it might still be too early to say whether the real estate market will lose momentum.
Home inventory
Home prices go up whenever there are more potential homebuyers than there are homes available for purchase. This has been the case in Newport Beach and other desirable communities in Orange County.
Even before the pandemic, the limited housing inventory was a problem and is still likely to remain one in the foreseeable future.
In 2020, the issuance of building permits in Orange county decreased by 33%, equivalent to a total of 6,027 building permits issued. Inflation is also impacting construction costs while worker shortages are causing lengthier durations for developments, which makes it more challenging to meet demands.
The lack of new construction results in increased home prices, which is ultimately due to simple supply and demand. While this certainly gives home sellers an advantage, the highly competitive Orange County real estate market may make it more challenging for potential buyers, who could decide to bide their time until bidding wars start to cool off.
Mortgage rates
Over the past several years, mortgage rates have been low. In the fourth quarter of 2021, average rates were about 3.2% for 30-year fixed mortgages. The incredibly low rates were one of the biggest factors behind the booming real estate market last year.
As of early August 2022, current mortgage rates in California are 5.11% for a 30-year fixed rate, 4.11% for a 15-year fixed rate, and 4.7% for a five-year adjustable-rate mortgage (ARM). While the US economy is still in the midst of rebounding from the pandemic and as yields on the country's ten-year treasuries increase, mortgage rates will continue to rise, which could cause home prices to drop.
Although the Newport Beach real estate market and other markets in Orange County will remain highly sought-after areas to buy a home, prices may not increase as abruptly as they did in 2021.
Timing the Newport Beach real estate market for a home sale
With all the different factors at play, there's a lot to consider when you're putting a home for sale on the Newport Beach real estate market. The increasing prices, interest rates, and buyer demand are just some of the factors to keep in mind when you're timing a sale. It's important to make sure you're ready to relocate as well since you'll need to look for another home that will meet your budget, requirements, and preferences in a competitive market.
According to the most recent Home Purchase Sentiment Index from Fannie Mae, about 51% of consumers think that now is an ideal time to sell a home. And most industry professionals agree, citing several reasons why, such as inventory shortage and steady buyer demand.
Indeed, home sellers can get top-dollar for their homes in Newport Beach by leveraging high buyer demand. With increasing home prices in Newport Beach and other communities in Orange County, bidding wars have become prevalent.
Another good reason to list your home now is the rising mortgage interest rates. Interest rates on mortgages have increased with the Federal Reserve increasing rates to minimize the impact of inflation. The average rate on a 30-year fixed mortgage is currently at 5.36%, which is significantly higher than in 2021, when it was around 3.13%.
The interest rates continue to rise at a brisk pace and are showing no signs of slowing down or stopping any time soon. As a result, some buyers may reach a point where they might consider holding off their purchase for the time being. For home sellers, selling right now could very well pay off before the interest rates rise any higher.
Other reasons to sell your Newport Beach home
Historically speaking, spring and early summer are typically the best times to sell a home in Newport Beach. But going beyond seasonal trends, there are other factors that might make listing your home a smart move. These include:
Housing inventory shortage – A shortage of inventory increases demand and prices for available properties. Additionally, whenever supplies are low, homes for sale often sell faster than usual.
Need to downsize – Moving to a smaller home could be a more budget-friendly choice than continuing to maintain a larger home. For some senior homeowners, downsizing might even be a necessity, especially if they live in a home with multiple levels or one that requires more repairs than they can manage.
Need to relocate – Selling your home becomes a necessity if a new employment opportunity requires you to move to a new area or you need profits from the sale to put towards your next home. Listing your home — especially in a seller's market – is the right move to make if you need to live somewhere else.
Work with the top Newport Beach real estate market expert today!
If you're ready to navigate the Newport Beach real estate market, I'm ready to go above and beyond to make your real estate dreams a reality. As one of the most seasoned Realtors in Newport Beach, you can count on my experience, solid track record of success, and in-depth knowledge of the different communities to help you attain your real estate goals.
Whether you're a buyer or a seller, I'm here to deliver an unparalleled level of client service to make your experience as smooth, efficient, and stress-free as possible.
Get in touch with me, Angela Caliger, today by calling 714.396.1886 or sending an email to acaliger(at)surterreproperties(dotted)com