Most people know Newport Beach for two things: its long stretch of sandy beaches and the nautical lifestyle both residents and tourists enjoy. And it's easy to see why: Newport Beach is a coastal city, after all!
But if you want to get to know this place a little better, spend time in each of Newport Beach's neighborhoods. Use this essential guide to plan your itinerary.
Table of Contents
The Back Bay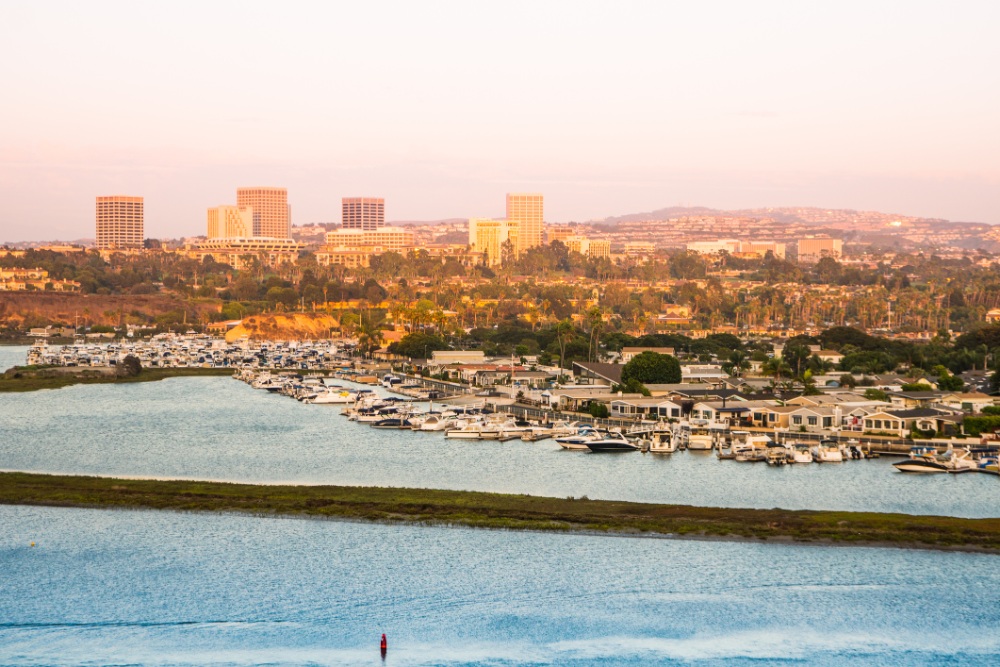 The Back Bay is the so-called heart of Newport Beach. It snakes from Newport Harbor and up into Upper Newport Bay. Just follow the length of Back Bay Drive or the delta that it follows. This same delta is the neighborhood's most distinctive geographic feature; it's a protected area formally known as the Upper Newport Bay Nature Preserve and Ecological Reserve.
What to do in the Back Bay
A playground for outdoor enthusiasts and nature lovers, the Back Bay attracts its fair share of recreationists every year. The entire reserve covers approximately 750 acres of wetlands, which is open for kayaking and stand-up paddle boarding. Motorboats are also allowed but limited to designated areas.
But one of the best ways to explore the neighborhood is to take the Back Bay Loop Trail. Traversing a total of 10.5 miles, it features several entry points as well as scenic stops along the way. These include the Back Bay Science Center, Upper Castaways Park, the Environmental Nature Center, and the Peter and Mary Muth Interpretive Center. The Back Bay Loop Trail also connects to the Mountains-to-Sea Trail, which travels for 22 miles and all the way to Irvine Regional Park.
The Back Bay's wetlands also serve as habitat to a wide variety of birds, including rare and endangered species. The annual winter migration is a particularly active time in the reserve— up to 35,000 bird species flock to the area. For these reasons, the Upper Newport Bay is one of the most popular bird-watching destinations in the country. If you're lucky, you may be able to spot peregrine falcons, California least terns, and brown pelicans, to name a few species.
Living in the Back Bay
There are a number of residential communities in the Back Bay area.
Bayside Village is one of these neighborhoods, located on the eastern banks of the Back Bay. It's a water-oriented community of upscale mobile homes, with access to a beach and over 200 boat slips. Another notable enclave in the area is East Bluff, near Bayside Village. There are several gated communities located within the neighborhood, most of which feature some of the most expensive homes in Newport Beach.
Across the delta is Dover Shores, another one of Newport Beach's premier neighborhoods. Magnificent luxury homes with grand views of the Back Bay and the surrounding areas are found here. For residents of Dover Shores, there's not much need to head downtown for the beach– pockets of bayside beaches are scattered throughout the shoreline.
West Newport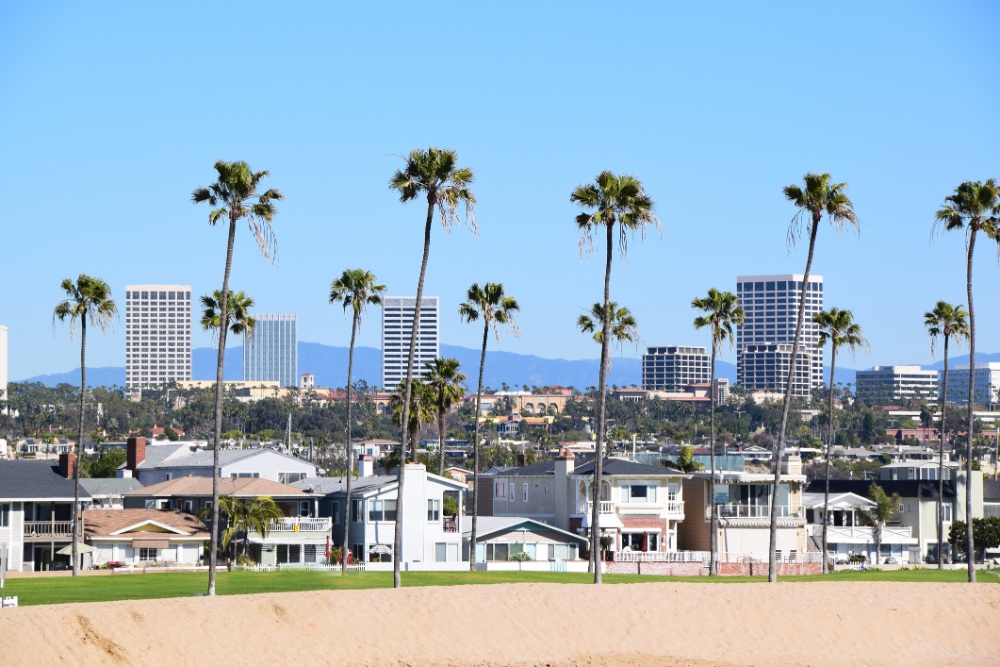 West Newport forms the westernmost section of Newport Beach, stretching from Newport Pier and all the way to Santa Ana River. Beyond this is already Huntington Beach, making West Newport one of your gateways to Newport Beach along the Pacific Coast Highway.
What to do in West Newport
Unlike the Back Bay, which is mostly natural (and residential), West Newport is a good mix of shopping, dining, entertainment, and beautiful beach homes. The entire stretch of Newport Beach is also located in the neighborhood. Several surf spots can be found in the area for both beginners and advanced surfers.
Several iconic city attractions are also located in the area, including Lido Theater, which is currently closed to the public. Lido Marina Village is another point of interest, famed for its waterside dining options and shopping. Because of its location, guests frequently come in by boat. And speaking of boats, West Newport is one of the usual launching points for sunset cruises and bay tours.
Living in West Newport
Several well-known Newport Beach neighborhoods are located within West Newport. These include Newport Shores, Newport Heights, and the Newport Village/Lido Peninsula Resort area.
A wide variety of residential options are available in West Newport, from older beach bungalows to condos, townhomes, and larger single-family residences. Depending on where you look, you can find new (or fairly-new) construction as well as properties dating back to the early 20th century.
Newport Heights is one of the most coveted places to live in Newport Beach because of its location and assemblage of great homes. Perched on a cliff overlooking Pacific Coast Highway's Mariners Mile, residents get to enjoy views of the ocean as well as the Back Bay in the eastern side of the neighborhood.
Balboa Island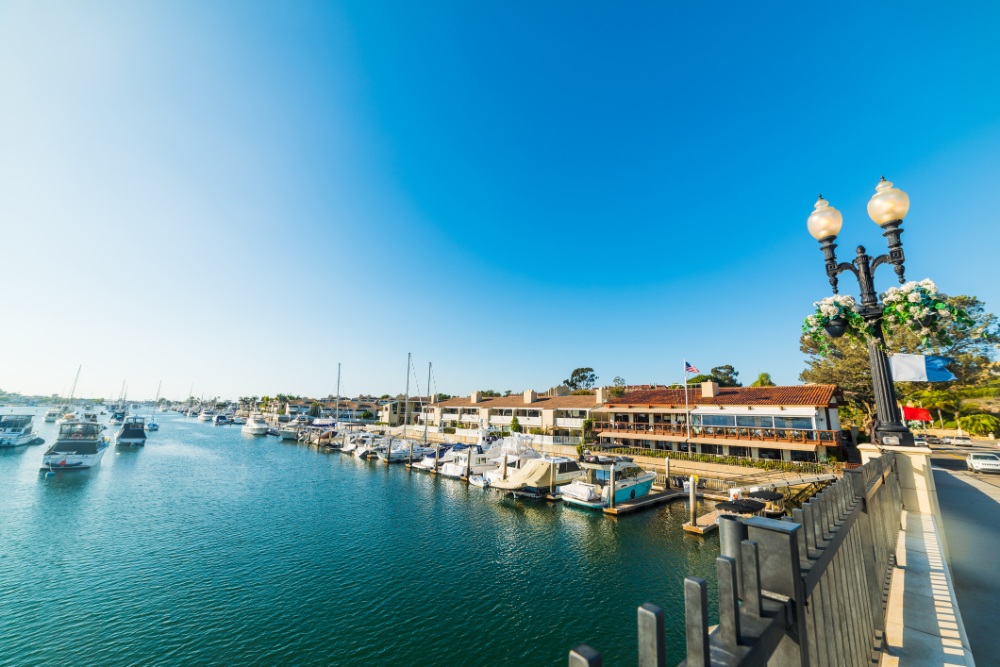 Balboa Island is like its own little world. Accessible from the mainland by Marine Avenue or by ferry, the neighborhood comprises three areas: the Big Island, Little Balboa Island, and Collins Island.
What to do in Balboa Island
Shopping, dining, and cultural attractions abound in Balboa Island. One of the first stops is definitely the Balboa Island Museum, where you can learn more about the origins of the neighborhood. Admission is completely free, and if you want a unique way to experience the museum, sign up for their scavenger hunt.
The nautical lifestyle reigns supreme in Balboa Island. You can travel by road, but plenty of residents prefer the scenic albeit slower Balboa Island Ferry, which transports passengers back and forth Balboa Island and Balboa Peninsula. There are also several outfitters located in the neighborhood, offering everything from whale-watching tours (when it's in season) and Newport Harbor cruises.
For dining and retail, Marine Avenue is the place to go. Along its length are beloved local institutions such as Sugar 'n Spice (a landmark since 1945), Royal Hen, Trattoria, and Basilic.
Living in Balboa Island
One of the most expensive Newport Beach neighborhoods, Balboa Island real estate is renowned for its collection of waterfront condos and single-family homes.
Majority of the available real estate is located in the Big Island, which features over 1,000 home sites. Meanwhile, Little Balboa Island, which is located east of the Big Island, has over 200 residential lots. Collins Island, the smallest and westernmost of the area, has less than eight homes, making it one of the more exclusive places to live in Newport Beach.
Corona del Mar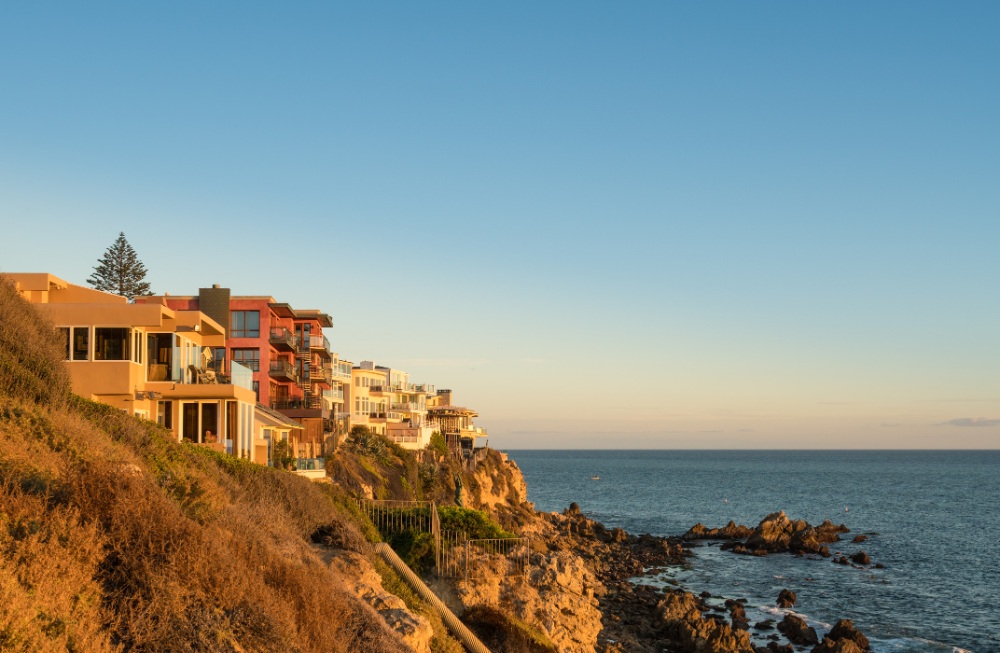 True to its name, Corona del Mar is one of the crown jewels of Orange County. It's near the wide expanse of Crystal Cove State Park and presents the best of upscale, seaside living in this part of Southern California. Beach, surf, and great food awaits, as well as a few attractions you might remember from popular TV productions.
What to do in Corona del Mar
This idyllic coastal village offers a wealth of both outdoor recreation and cultural attractions. Crystal Cove State Park is a popular destination not only for CdM (as locals call Corona del Mar) residents but tourists as well; it's one of the largest state parks of its kind in Orange County. It features over three miles of beach, rich waters off coast, and thousands of acres of inland park to explore on foot or on horseback.
Closer to the village is Corona del Mar State Beach (also known as Big Corona) and Little Corona del Mar Beach. Big Corona is the larger of the two, with coves and long stretches of sandy beach, which is open to a wide variety of activities such as beach volleyball. The jetty area is a popular surfing spot that generates clean waves especially in the springtime. Meanwhile, Little Corona del Mar Beach is a more secluded spot surrounded by tall cliffs on land and rocky reefs offshore. People love to go here for picnics, snorkeling, and diving.
With so many good restaurants in the neighborhood, Corona del Mar's dining scene can stand on its own. Some of the local favorites include The Bungalow, known for their steaks and cocktails; Summer House, a beach cottage that serves American comfort food; Rothschild's, which has been a local institution for 30+ years; and Five Crowns, a New England-style steakhouse.
Living in Corona del Mar
Beach homes, contemporary luxury properties, and single-family homes are some of the real estate options that make up Corona del Mar real estate. A significant portion of these homes enjoy unending and unobstructed views of the Pacific Ocean, giving residents front-row seats to spectacular sunsets.
Several subdivisions and gated communities can be found within the village. One of these is Shore Cliffs, a little north of Laguna Beach and Newport Beach's southernmost neighborhood. Large coastal homes can be found here. Residents also have access to a private beach. With only over 140 homes in the area, Shore Cliffs is a sought-after place to live in Newport Beach.
Another notable community in Corona del Mar is the South of Pacific Coast Highway area, tucked between Shore Cliffs and Irvine Terrace. One of its main draws is its proximity to the state beach. Housing options in this neighborhood include expansive custom homes and luxury townhouses that take full advantage of its coveted coastal location.
Cameo Shores is laidback but just as affluent and stunning. Some of the best oceanfront homes in Newport Beach are reportedly in this community— along Brighton Road, to be exact. The neighborhood's streets climb up the hillside like a terrace, offering almost every property in Cameo Shores unobstructed views of the Pacific. Cameo Shores Beach is directly below these properties.
Balboa Peninsula
The Balboa Peninsula is easily one of the most distinctive Newport Beach neighborhoods. That's partly because of its geographic location (it's a literal peninsula that juts out of the mainland and into the sea) and partly because of its collection of fun, family-friendly attractions.
What to do in the Balboa Peninsula
While most people describe the Balboa Peninsula to be predominantly residential, it has its fair share of attractions. On top of the list is Balboa Fun Zone, which is said to draw approximately seven million visitors annually. It was built in 1936, which makes it one of the oldest coastal amusement parks in Southern California.
Near Balboa Fun Zone is the Balboa Pier, one of the two piers in Newport Beach. A popular sight-seeing and fishing spot, it was built in 1906. The beach nearby is a local surfing destination. Another landmark is the Balboa Pavilion, a designated National Historic Place and California Historical Landmark. This Queen Anne-style building was also erected in 1906 and figures prominently in Newport Beach's history.
Other notable sites in the Balboa Peninsula include the Balboa Peninsula Park, the three-mile Balboa Peninsula Beach, West Jetty View Park in the very tip of the peninsula, and the world-famous Wedge, a surfing and body surfing spot that produces 30-foot waves once in a while. Because of the powerful swells, the Wedge is best reserved for the most advanced of surfers and body surfers.
Living in the Balboa Peninsula
Real estate offerings in the Balboa Peninsula are mostly single-family homes in an array of sizes and architectural styles, including contemporary, Mid-century Modern, Cape Cod, and Queen Anne. And because of the Balboa Peninsula's location, most of these properties feature water frontage or easy beach access.
Peninsula Point is perhaps Balboa's most sought-after enclave. Nowhere else in Newport Beach can you find a beautiful selection of older (but updated) properties, with some homes dating back to as early as the 1920s. And because of its location, Peninsula Point offers both beachfront and waterfront real estate, which can be rare in Newport Beach. Keep your eyes peeled for the so-called "Balboa charmers," which are holiday cottages built in the 1950s. At times, you might feel like you're in a New England coast town because of the prevalence of Cape Cod and Eastern Seaboard architecture in the neighborhood.
By Newport Beach standards, Peninsula Point feels already worlds away. But Bay Island, located just off the Balboa Peninsula, takes it a step further. The entire island is only 5.5 acres and features a grand total of 23 waterfront co-op homes, making it the most exclusive address in Newport Beach. Despite being across the water from Balboa Island, Harbor Island, and Lido Isle, the only way to access Bay Island is through a pedestrian bridge that connects it to the rest of the Balboa Peninsula.
Newport Coast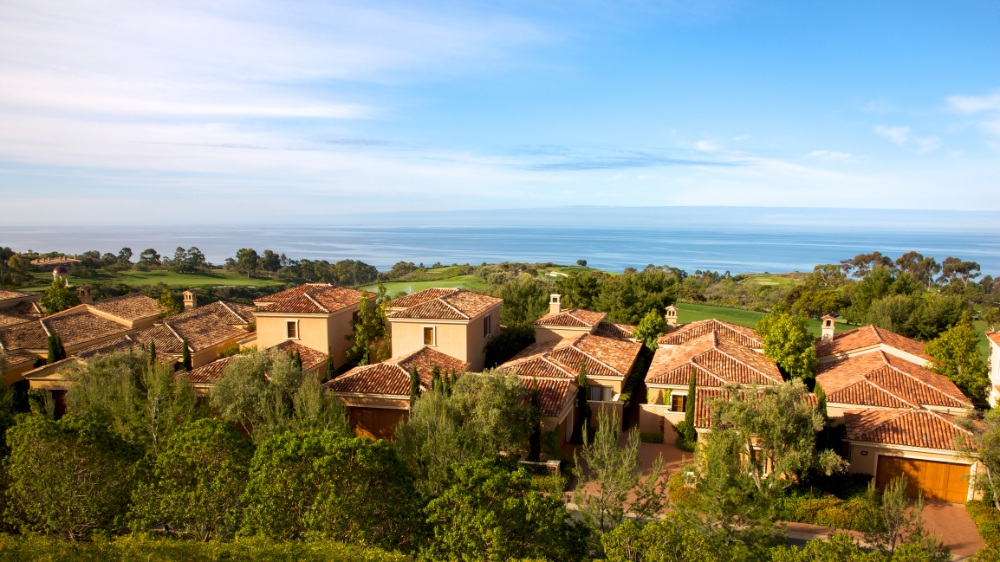 Newport Coast officially joined the city of Newport Beach in 2001, but prior to that, it stood as its own master-planned community. This hilly neighborhood is by no means small. It covers more than 9,400 acres of coastal land, 75% of which is dedicated open space.
What to do in Newport Coast
When in Newport Coast, there's nothing to do but to live it up. Pelican Hill is a 5-star resort in the area with a bevy of luxury amenities. That includes their iconic "coliseum" pool, located right in the heart of the resort and overlooking the Pacific Ocean. Pelican Hill is also renowned for its golf facilities— 36 world-class holes scattered across breathtaking and equally challenging terrain designed by none other than Tom Fazio. Choose between beginner-friendly Ocean North, a par-71, 6,945-yard course, and Ocean South, where the 13th hole might surprise you.
If you're done relaxing, you can hit the trails at the 1,200-acre Buck Gully Reserve, which takes you up and down coastal canyons. In some parts of the park, you might get a sneak peek of Pelican Hill and the luxury properties that dot the surrounding areas.
Finally, there's the Crystal Cove State Park, which offers everything from rugged backcountry trails, fascinating tidepools, protected marine areas, and a historic 12.3-acre district where you can find 46 well-preserved beach cottages. These are remnants of the original seaside colony in the area, which was developed between the 1930s and 1940s.
Living in Newport Coast
Part of the allure of living in Newport Coast is the balance between tourism and privacy. While the area is frequented by tourists, as a resident, you can easily return to the serenity of your home. This is because most of Newport Coast's housing stock is located inside guard-gated communities, protected from the outside world.
One of these communities is Pelican Point, an exclusive subdivision of 48 luxury properties. Located near the beach, it's one of the most expensive places to live in Newport Beach. Another sought-after neighborhood is Crystal Cove, which is divided into several smaller enclaves. Popular architectural styles here include Tuscan, Provençal, and Santa Barbara.
Luxury townhouses and condos can also be found in communities like Trovare, which was developed in the 1940s. Trovare offers reasonably priced but no less upscale alternatives to the multi-million dollar homes found throughout Newport Coast.
Is Newport Beach your next home?
Let's find out together. I'm Angela Caliger, and it would be an absolute pleasure to help you explore what Newport Beach and its real estate market has to offer. As one of the top 1.5% agents in the country by sales volume, you'll be in good and capable hands.
Ready to start? Call me at 714.396.1886 or send me an email to set up a private consultation with me at your convenience.